Know more the salt spray test chamber(3/3)
The purpose of salt spray test is to check metal materials resiistance to salt corrosion, and the result of the test is to judge the product quality. Salt spray test results are judged by rating method, weighing method, corrosion data statistical analysis method.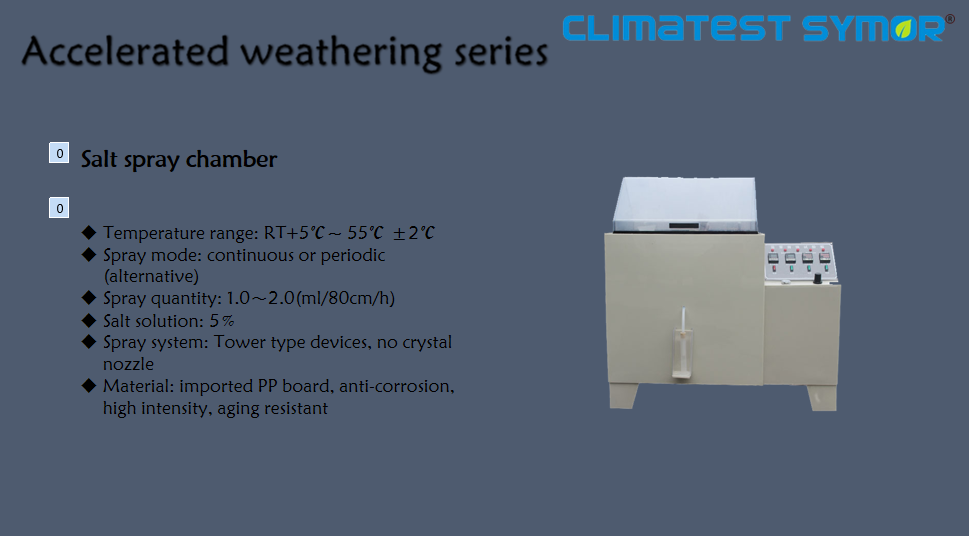 The rating method is to divide the percentage of corrosion area to total area into several grades according to a certain method.
Weighing method is to evaluate the corrosion quality of the samples by weighing the weight of the samples before and after the corrosion test,and make a comparison.
Corrosion data statistical analysis method
is a qualitative method. After salt spray corrosion test, whether the product produces corrosion phenomenon is used to judge the sample.
There are three kinds of salt spray test we introduced in the last article:
neutral salt spray test (NSS test)
,
Acetate fog test (ASS)
and
copper accelerated acetate salt spray test (
CASS
),
among which the most widely used is neutral salt spray test. The basic content of salt spray test is at 35 degrees Celsius,5% sodium chloride aqueous solution, spray in the test box, simulate the accelerated corrosion method of seawater environment, the length of its tolerance time determines the corrosion resistance.
Through specific ntroduction of salt spray corrsion chambers in this 3 articles,you will have a basic understanding about this equipment,for more info.pls contact us:sales@climatechambers.com