Difference between Neutral and Acid Salt Spray Corrosion Test
Salt spray corrosion chamber can test the ability of
material and its protective layer to resist
salt mist corrosion, or compare the process quality of similar protective layers, at the same time; this equipment is suitable for parts, electronic components, protective layer of metal material and other industrial products.
Salt spray test is divided into neutral and acid test. What is the difference between neutral and acid in salt spray test?
First, the temperature applied in the test method is different:
Neutral test: a. Laboratory:35°C ±1°C, b. Saturated air drums:47°C ±1°C
Acid test: a. Laboratory:50°C ±1°C, b. Saturated air drums:63°C ±1°C


Second, the production material is different,neutral test chamber adoptes the traditional PVC plates, acid test chamber asopts PP sheet,which is more high temperature resistance and suits strong acid test.
Third. Different test methods satisfied
Neutral salt spray chamber according to GB/T 2423.17-2008, GB/T 2423.18-2000< basic rules for electrical and electronic products test Ka >, salt spray test method and GB/T 10125-1997, GB/T 10587-2006, GB10593.2-1990, GB/T 1765-1979, GB/T 1771-2007, GB/T 12967.388, GB/T 1705.8-2008, etc. In addition to the test methods specified in the national standard, acid salt spray chamber also needs to expand the standard setting such as IEC,MIL,DIN,ASTM,IS,CNS.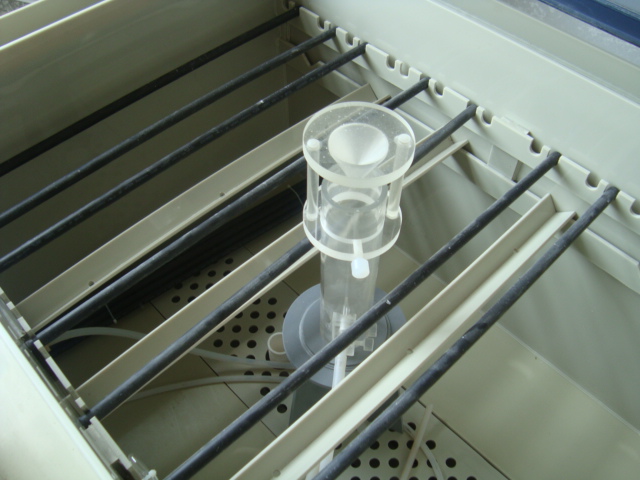 Last, Comparison of neutral test solutions
China: NaCI distilled water solution NaCI mass concentration (50 ±5) g ≤ l pH value 6.5 ≤ 7.2
United States: distilled water solution NaCI mass concentration 5% ±1% pH value 6.5 ≤ 7.2
Germany: NaCI distilled water solution NaCI mass concentration (50 ±5) g ≤ l pH value 6.5 ≤ 7.2
Japan: NaCI distilled water solution NaCI mass concentration 5% ±1% pH pH value 6.5 ~ 7.2
France: NaCI distilled water solution NaCI mass concentration 5% pH 6.5 ≤ 7.2