Know more the salt spray test chamber(1/3)
Sa
lt Spray Corrosion Test Chamber tests products' protective layers' resistance to salt spray corrosion, the chamber is widely applied on the enclosure of electronics, metal materials and industrial products, the chamber is made by imported reinforced PP plates, which are aging resistant, anti-corrosion, and easy to clean without leakage.
The salt spray test chamer consists of two systems:
I:Salt spraying system
The salt spray system is composed of solvent tank, variable speed creep pump, pneumatic system, blister tower, nozzle, etc. The variable speed peristaltic pump sends the salt corrosion solvent from the internal solvent tank to the nozzle and the compressed air is mixed, and the compressed air is humidified by the blister tower on the way to the nozzle. The nozzle atomizes the air containing the salt corrosion solvent into corrosive air mist. The blister tower is detachable and easy to remove and wash. When the low water level switch of the blister tower detects the low water level, the blister tower heater closes and the spray pump stops. the blister tower is automatically filled with water through the water filling solenoid valve until the high water level switch detects the high water level. The test continues when the water filling solenoid valve stops. The variable speed creep pump controls the corrosion solvent quantity of the automatic sprayer, and the air pressure regulating system controls the distance of the ejection. There is a solvent tank in the box, for most tests, it can be guaranteed to run for 7 days, or longer, the solvent tank has a whole salt filter and a built-in type alarm, when the solvent quantity is small, it can alert the operator.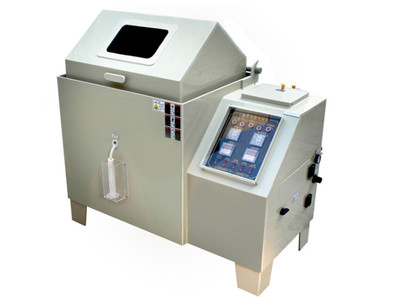 II:Drying system
The drying system is composed of blower, air heater, diffusion plate, pipeline, etc. Under the drying function, the indoor air is fed into the box body through the air heater, so the low humidity environment is produced in the box body, and the temperature of the box body is controlled by the box body heater and the air heater. High volume blower can also change the temperature very quickly, thus realizing the function of rapid circulation.