Best seller-Temperature test chamber
The high low temperature test chamber is the best seller in recent years,it is suitable for testing the performance indexes of electronic parts, automobile, aerospace, marine weapons, colleges and universities, scientific research under high low temperature alternating cycle condition. Breifly speaking,temperature test chamber is mainly for reliability test of Industrial products.
Product parameters:
1. Model: 50L/ liter, 100L/ liter, 150L/ liter, 25
0L/ liter,
500L/ liter, 800L/ liter, 1000L/ liter,
2. Working chamber dimension: 35
X
32
X
45,50X40X50,50X50X60,60
X
50
X
81,80X70X90, 100X80X100 ,100X100X100cm
3. Interior material: mirror stainless steel plate (SUS # 304 1.5mm thickness)
4. Exterior material: stainless steel plate (SUS # 304 1.5mm thick) or cold rolled steel paint treatment
5. Insulation material: high temperature resistant high density chloroformate ethyl acetate foam insulator material.
6. Refrigeration: air cooling/water cooling, single/cascade compressor.
7. Temperature range: A: -20
℃
-150℃, B :-40 ℃ ~ 150 ℃, C:-70 ℃ ~ 150 ℃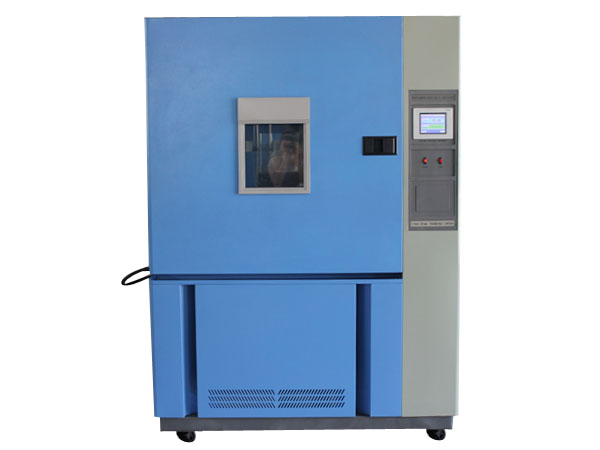 Description:
The temperature tets chamber adopts Japan 7" UMC programmable controller,the operation interface is available in English and Chinese, and the real-time operation curve can be displayed on the screen. It has the capacity of 12000 cycle steps for 120 groups of programs, with a maximum of 99 hours and 59 minutes per period. After data input, the controller has screen locking function to avoid artificial touch and stop.
It has RS-232 communication interface,which can design programs on computer, monitor test process and execute automatic switching machine and so on. The refrigerator adopts the French original Tecumseh fully closed compressor. The freezing system is designed by unit or binary low temperature loop system. The strong air supply cycle of multi-wing fan can avoid any dead angle, and the temperature and humidity distribution in the test area can be uniform. The design of air circulation return wind, wind pressure, wind speed are in accordance with the test standards, and can make the temperature and humidity return time fast at the moment of opening the door. Heating, cooling and humidifying system can improve efficiency, reduce test cost, increase life and reduce failure rate.
https://climatechambers.com/climatictestchamber/temperature-test-chamber.html